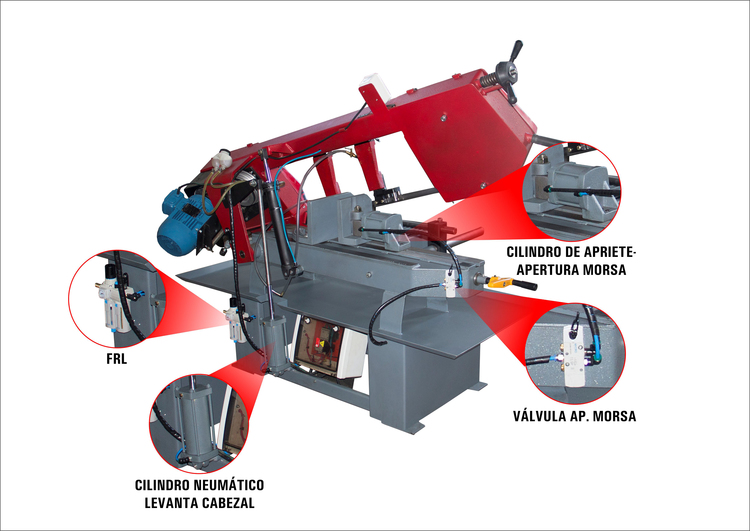 Semi-automatic: Closure and opening of vise in pneumatic form. At the end of the cut, the head lifts up and returns to its starting position. It greatly speeds up the work of the operator, and reduced cutting times.
Specifications Cutting speed:
Staggered by belt change: 3 speeds.
Tape guide:
For bearings and hard metal plates.
Clamps:
Adjustable for cutting 45°
Cutting feed:
Controled by hydraulic cylinder and lowering-speed regulating valve
Positioning:
Blocking valve that allows the head to stop in any position
Rotating brush:
For cleaning the tape, located in the correct angle and with synchronized speed with the tape through a simple mechanism. It thus reduces the minimum possibility of band wear..
Automatic stop:
When the cut is finished
Electrical commands:
Thermomagnetic protection. Motor protected against overload and phase failure.
Technical details
Cutting capacity: 250 mm I.D., 300 mm O.D.
Tape dimensions: 3650 x 26 x 0,9 mm
Cutting speeds: 20 – 40 – 60 m/ min
Motor power: 1,5 Hp a 1500 rpm
Electropump power: 0,2 Hp