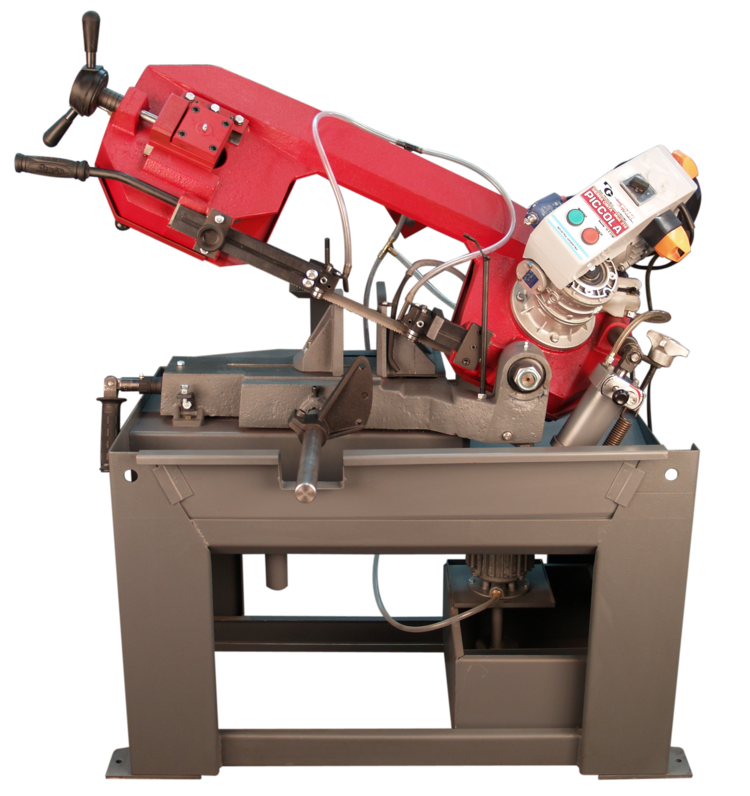 Satisfies not only the needs of the small industry, workshop, and craftsman, but it is also completely indispensable for mediuam and large metal-working, because of the sturdiness of the head and solid stucture of the base that allows you to complete cuts with precision and speed.
Construction details:
Gray cast iron head and vise
Perlitic cast iron and induction-tempered steering wheels
Head articulation with a table with tapered bearings
Front steering wheel on tapered rollers
Very sturdy construction of blade tensioner, with conical collars
Transimission of power through a gearmotor in an oil bath
Blade guide by bearings.
Adjustable clamps to 45°
Head position: Stops at any point by means of a blocking valve
Stops automatically at the end of the cut.
Technical Specifitacions:
Cutting capacity: 150 mm I.D., 170 mm O.D.
Motor power: ¾ Hp
Electric pump power: 0,2 Hp
Band dimensions: 2.170 x 19 x 0,9 mm
Cutting speeds: 63 – 32 m/min.
Dimensions and Weight
Lenght: 1180 mm
Width: 650 mm
Height: 1150 mm
Weight: 200 Kg